Best Converting Shopify Theme Shoptimized
Shopimized is the best conversion Shopify theme developed by conversion rate expert Bradley long.
shoptimized theme Focus on conversion boosting
Shoptimized topics are developed in accordance with the proven principles of baymar Institute, the world's leading authority on e-commerce best practice Conversion Optimization guidelines, and can be converted better than any other topics.
The urgency of countdown timers: the shoptimized theme allows you to simply add labels to any product for which you want to display countdown timers. Select the number of days or hours that the timer will count down. It even resets automatically when it reaches zero. This means that you can set it up and forget it;
Remaining inventory scarcity: this setting has two effects. First, it creates a sense of urgency that tourists miss when stocks run out. Second, it's a built-in social proof that someone else has bought the item before;
Geo-ip identification: In order to better serve your international customers. And identify the countries / regions they are visiting to personalize their shopping experience;
Currency switcher: added geo IP recognition to automatically convert prices into visitors' currency. Check your products in your own currency to make the conversion rate of international customers higher;
Get its timer: user testing has proven "when can I receive my order?" It's one of the biggest problems that shoppers face. No other topics allow you to provide the expected delivery date;
Email pop up window: Pop up windows can help you collect email so that you can build relationships with customers and increase sales;
Marketing integration: Simply copy and paste the added JavaScript code fragment into the relevant fields in the theme settings!
Risk reversal: Weak guarantees are the quickest way to shut down potential customers. What's worse is forcing customers to look around for relevant information before buying. In addition, it is an important part of your unique value proposition. Therefore, we put it in a prominent position at the bottom of the page so that visitors can get the guarantee they need before checking out;
Value proposition: You cannot assume that your visitors already know why they should buy from you. You need to stand out from the competition. One of the best ways is to tell them why you are better than others. The best time to tell them why is when they are about to commit to buying. So we added the "reason" icon under the "add to cart" button and on the cart page itself. You can choose from our template icon or load your own;
Video Embedding: It's no secret that product videos increase conversion rates. So we make it easy for you to add videos next to product images( Instead of embedding them into the description as most themes force you to do), we've also added a place where we can add videos to the footers. This way you can tell your story and reinforce your unique value proposition( In addition, if you are not ready to enter the location of the camera, you can turn it off by clicking the button.)
Sell personalized products without expensive apps: It's no secret that selling personalized / customizable products can increase the conversion rate compared with non personalized products. It also means that you can charge a higher price. Shoptimized theme has built-in product customization. Save you $180 per year on the same application.
Super menu A study of the best performing e-commerce stores by baymar Institute found that the best performing stores always use giant menus. What makes sense is that when the user sees the whole landscape of the product you want to provide at one time. They are more likely to find ways to buy products. With shoptimized, you can customize large menus to suit your market segments and product range, so that visitors can easily find and buy your products. Only a few products? Cool, you can close the super menu and continue to use traditional navigation until your scope becomes large enough.
Convert the best title area: The title is the most important real estate in your store. It sets the tone for your brand and is the most consistent element in vision. Therefore, you must have each pixel in the title occupy its position. That's why we've customized it in eight key ways. The built-in Hello bar allows you to announce special offers, such as free delivery or quick sales. Add a slogan under the logo and test different values to find out what's going on to bring you the highest conversion rate. Split navigation: baymar institute recommends using up and down navigation for maximum availability. Use the navigation bar above for customer support links about us, contact us, order tracking, and FAQs. Use the lower level browser to quickly track visitors' access to your product. Promo / deep of the day banner: use this as an additional way to promote offers or your day transactions across the site. Highlight search: it turns out that visitors who search with your internal site are three times more likely to convert than those who are not using them. Most websites inadvertently disguise their website search, which makes them pay valuable transformation. As shopimized becomes a high conversion shopif theme, you will never miss it. You can also customize the prompt text in the search field to encourage more searches by using convincing copies. Phone number: displaying phone numbers in your store is an important factor in building trust. Whether visitors really call you or not, it reassures them that they need to spend money with you. Super menu: recommended by baymar Institute. When you have multiple categories and products, large menus are critical to availability and transformation. For more information, see above. Sticky Title: the research by Smashing Magazine found that the sticky navigation bar enables users to find what they want at 22 percent speed. Because mobile users want instant results and fast access to key data, it is important to improve navigation speed by 22%. In addition, the same study found that incredible 100 percent of participants preferred sites with sticky navigation bars, although they often don't know why.
Built in social proof pop-up window: People will do what they see others doing. This is the basis of human persuasion, so we have a built-in notification pop-up window to randomly display the sales of your store. If your prospects see a buying frenzy, they are more likely to join.
Free delivery: The lack of free delivery will leave your customers in droves. In addition, adding free delivery threshold is an effective way to increase the average order value. In addition, our free shipping bar also integrates a built-in up sale pop-up window to encourage shoppers to spend more.
Up sell pop up window: Your average order value is a key factor. Whether you are making money or losing money in your advertising campaign. This built-in up sell pop-up allows you to increase the average order value by encouraging customers to buy more than one item. It's simple and effective. Third party applications that do this are notorious for slowing down your website and killing conversions.
Fully customizable call words button: When visitors log on to your product page, it's all about having visitors add items to the shopping cart. In particular, if your buttons are camouflaged or hidden by clutter, your sales will be affected. We make it easy for you to test different button sizes, colors and vocative text. In this way, you can find the best point to bring the biggest profit.
Shopping cart page urgency: As the legendary writer Gary Bencivenga said" In most people, the fear of loss is more motivated than the desire to gain. " So you can create a sense of urgency by making users feel that the deal they want is about to disappear. That's why we added an optional countdown timer to the shopping cart page to help motivate users to complete checkout.
Cross selling pop-up window: the amount you can withdraw from each customer will make or break your e-commerce business. Therefore, cross selling pop-up windows can help your customers quickly add related products to their shopping carts to increase your average order value. And because it's built-in, you no longer need expensive and slow loading third-party applications to help you make more money.
Skip shopping cart: many of our theme users ask if we can create a way to skip shopping cart completely from the channel. Because it reduces friction and often increases conversion. In addition, we make it easy for you to choose the best product for your store. Here are five choices that occur when someone adds an item to a shopping cart: Skip the shopping cart - go straight to checkout, Slide out of the cart, Pop up mode, Redirect to the shopping cart page, Drop down to confirm;
Product badge: This is an important merchandising feature that helps highlight items that are on sale or delivered free of charge. E-commerce platforms like monetate charge the same $30000 a year. We provided it for free.
Free + tripwire offer: It's no secret that free + shipping or "tripwire" offers are a reliable way to get new customers quickly. It can also help gain market share. Therefore, you can now provide special call words button for your free + delivery discount.
Product filters: improving the Shopify store's user experience helps guide visitors to your product page and buy. Our easy-to-use product filters help visitors find the product they are buying right away;
Website search auto complete: Auto complete in the site search of your Shopify store can help users find your products more easily. Therefore, according to the research of weblinc, it plays a huge role in improving the conversion rate. In addition, visitors who use your website to search are 216% more likely to convert than ordinary visitors.
Bulk purchase of social certificates: Tell your shopper how many other customers have bought more than one item, which helps encourage people to buy in bulk. This will push your average order value into the stratosphere.
Exit the pop-up window: It is an effective way to get more sales to attract the attention of the quitters through the last-minute discount. Offer percentage discount or discount. In addition, the shoptimized theme includes an optional countdown timer to take advantage of urgency / scarcity;
"Dynamic day" shopping cart Coupons: Surprise discount takes advantage of the principle of reciprocity, which helps to make shoppers promise to buy. Increase urgency / scarcity by making it effective only on the same day, and your conversion rate will soar.
Sticky add to cart button: Never let your call phrase button be invisible on your product page. Once your visitors are convinced to buy, the add to cart button is right there and can be easily clicked.
Instant coupon code delivery: What's the point of forcing someone to leave your website to view their email for a coupon code? You risk having them distracted by another email and leading to a sales failure. As soon as someone enters their email address, their discount code will be displayed so that they can use it to check out immediately.
"Dynamic day" shopping cart Coupons: Surprise discount takes advantage of the principle of reciprocity, which helps to make shoppers promise to buy. Increase urgency / scarcity by making it effective only on the same day, and your conversion rate will soar.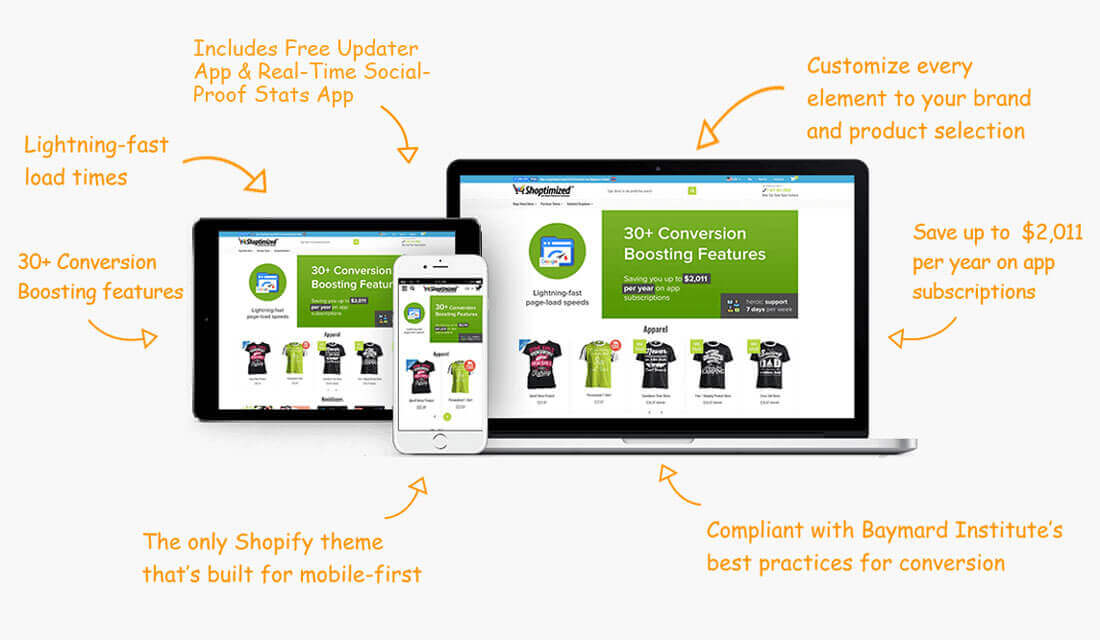 shoptimized coupon code
The lelinta website provides the latest available shoptimized discount coupon codes, allowing you to buy shoptimized theme at the cheapest price
shoptimized theme discount:20% OFF use

CNC20

shoptimized discount code:Shoptimized Coupon Code, 70% Off Discount & Promo Code

ACSHOPTIMIZED

shoptimized theme discount code:Exclusive Shoptimized Coupon

PARADISE20
shoptimized theme download
The downloads of different versions of shoptimized theme are: Shoptimized Theme Pro and Shoptimized Theme Ultimate.
shoptimized theme free
If you are looking for "shopify shoptimized theme" nulled WordPress Premium Plugin Free Download for your WordPress Website. Then you are right place here you can free download "shopify shoptimized theme" for learning and testing purpose. If you want "shopify shoptimized theme" for commercial use then you have to need licence. Join lelinta website members to download shoptimized theme for free.
shoptimized theme examples
Shoptimized official website has 11 shoptimized stores use the Shoptimized theme Including Print-on-demand stores,LED lighting stores,High-Ticket Dropshipping Stores,Footwear stores, Supplement sellers,Outdoor equipment sellers,Skincare stores,Health & Beauty stores, Fashion stores,7-figure AliExpress drop ship stores,SmartWatch Bands & Accessories stores, Fitness stores etc. Demonstration effect can be viewed shoptimized demo store Can customize shoptimized theme settings and custom development.
shoptimized support
Shoptimized provides support services online to stay available and cost-effective. Including general query about subject function; Help customize theme settings and any observed defects or theme issues. If you have a specific question, provide the topic you are using and contact your store URL (and password, if the store is locked) to provide feedback on all requests within 24 hours.
shoptimized theme tutorial
For shoptimized theme installation, setting, and custom development, you can visit lelinta related tutorial categories and lelinta youtube channel tutorials for detailed explanation
ecom turbo vs shoptimized
You can also download turbo shopify theme on this site to compare the prices and features of ecom turbo vs shoptimized in detail.
shoptimized theme review
Some of the world's top Shopify experts like Tristan Broughton ,Will Erbe ,Robert Nava ,Jared Goetz Shoptimized is widely praised