Shopify shop website can use facebook and google advertising to bring traffic in the early stage, but now the cost of advertising is very high, and it is becoming more and more difficult to control ROI. In the long run, SEO cost performance is the highest source of traffic. Take my personal website as an example. Advertising is mainly used to bring traffic through SEO. The following is a step-by-step tutorial for shopify SEO that I have summarized from the practice of this website. I hope it will be helpful to shopify seo beginners.
find out shopify seo problems
Use seo site audit tools to find out which shopify stores currently exist and summarize shopify seo checklist.You can refer to the tutorial written last time,Check shopify SEO list from ahrefs site audit.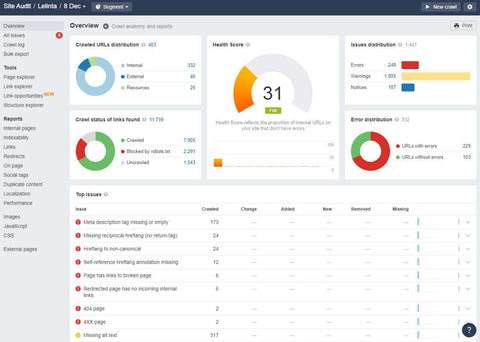 Taking this website www.lelinta.com as an example, the shopify seo problems are as follows:
Link problems:Page has links to broken page,Redirected page has no incoming internal links,Page has links to redirect,Page has only one dofollow incoming internal link,3XX redirect,HTTP to HTTPS redirect,External 3XX redirect;
On page problems:Meta description tag missing or empty,Title too long or too short,Meta description too long or short,Open Graph tags incomplete,Multiple H1 tags;
Hreflang problems:Hreflang to non-canonical,Missing reciprocal hreflang (no return-tag),Self-reference hreflang annotation missing,Not all pages from hreflang group were crawled;
Slow page,Images Missing alt text,CSS file size too large,
shopify seo checklist
The above problem is only found by ahrefs site audit, one of the SEO tools. You can also use Google bing webmaster tool to find the problem and finally sort out the shopify seo checklist.
Step 1.Optimize Shopify Site Structure
The website structure is the basis of shopify store site optimization, which is convenient for users to quickly find the content they need to meet the user-friendly experience. 
Breadcrumb navigation structure
simpler site structure makes it easier for search engines to crawl your site,Try to let visitors find the content they want by clicking at most 3 times. The homepage can enter all pages of the website, and the collection page can enter all the products under the category. Try to use Breadcrumb navigation columns, such as:Homepage » Category Pages » Product Pages or Homepage » Category Pages » Sub-Category Page » Product Pages
With respect to e-commerce SEO,In addition to product and category pages you will need to include an About page,RETURN POLICY,PRIVACY POLICY,TERMS OF SERVICE,SHIPPING ,Contact page on your shopify site.For shopify stores with many products, the on-site search function is also a necessary function to enhance the customer experience.
Submit the sitemap to mainstream search engines
All shopify stores have their own site map files such as [www.yourstore.com/sitemap.xml].Submit the site map file to mainstream search engine webmaster tools such as Google Search Console, Bing Webmaster Tools, baidu etc.Use Google Search Console to check for any crawling errors.If you are alerted about any errors, work to fix them immediately.
Step 2. Improve User Experience
Search engines such as google pay more and more attention to the user experience of customers on the website. The longer the stay time, the easier the ranking of the website is. Improving the user experience of shopify stores can be optimized from the following aspects:
Boost shopify Site Speed
make your Shopify store faster,you can:use a fast, mobile-friendly theme;use smaller, optimized images;remove any apps you're not using;avoid using sliders.you can do to make a Shopify site load as quickly as possible:
Use image compression tools to reduce the size of any images you're uploading to Shopify.
Keep use of any external scripts or custom code on your site to an absolute minimum.
Remove any Shopify apps you are not using.
Avoid using image sliders (in favour of one, optimized image).
Avoid using a large number of web fonts on your site, or even consider ditching them entirely in favour of web safe fonts (these load faster).
Consider using Accelerated Mobile Pages (AMP) format for your Shopify pages and posts To use AMP with Shopify, you'll need to install and pay for a third-party app like RocketAmp.
Use Responsive shopify theme
More than 80% of current website traffic comes from mobile devices. It is necessary to ensure that your shopify theme automatically adapts to mobile devices. E.g Fastest Shopify Theme Grass
Step 3. Setup Target Keywords
Research the Right shopify Target Keywords Is a prerequisite for search ranking,make a list of at least five main topics that your customers care about and that are closely related to your product.There are a large number of tools that can be used to research keywords, even the bing webmasters keywordresearch also has keyword functions such as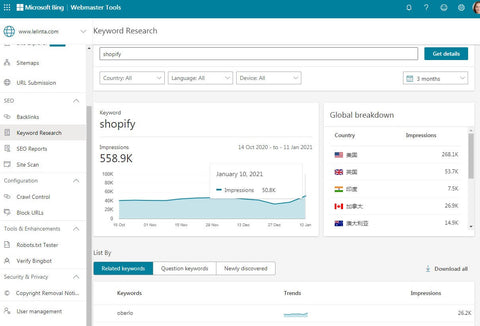 Map keywords to content types.product pages, categories, blog posts, your homepage rank for different keywords.
Step 4. Optimize Shopify Landing page
As the focus of e-commerce SEO is to optimize the advertising landing pages of customers, especially Optimize Shopify products pages. 
Optimize Title Tags for Categories
You should use your keywords in a consistent way, like in this example formula:Keyword 1 – Shop for Keyword 2 – Store Name
Optimize Title and Meta Description for Products
think of the online buyer's information needs first and foremost. Then, follow best practices to make sure your product description SEO skills will net the attention of search engines.the rule for writing winning product descriptions 5 Steps:
Write for Buyers, Not Bots
Major on Benefits (Include Features)
Target the Right SEO Product Keywords
Let Buyer "Awareness" Drive Your PDP Length
Create Unique SEO Product Descriptions for Each PDP
Step 5. Build shopify Links
Content is king, and external links are king. Although the importance of external links has decreased the weight of search engines, external links from related high-weight websites still trust your shopify shop toup.Here are a few tips get links to your shopify store:
Supplier/Manufacturer Links
Industry/Influencer Voices
Mentions
Broken Links
Step 6. write SEO Content
take the time to create original content,what to write about? Make a list of all the things your customers ask you or anything you think customers may want answers to. Not product information, but real answers. Your content is a chance to let customers and potential customers get to know your brand in a way that doesn't involve selling. It's also one of the easiest ways to rank for more keywords
Step 7. Use Best Shopify SEO Apps and Tools
we're going to cover Best Shopify SEO tools and Shopify apps that you can use to boost your site's rankings: 
shopify seo tools
include shopify seo Site Audit tool,now many webmaster tools also have tools to find out what problems your shopify store has, such as bing webmaster tools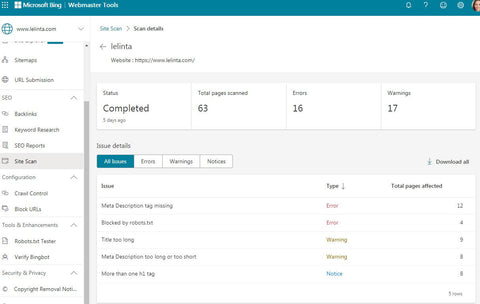 shopify seo apps
In addition to the shopify seo tool above, shopify uses many seo apps to enhance SEO functions:
Plugin SEO
shopify Plugin SEO app provides automatic, regular checking of page titles and headings, meta descriptions, speed, content, article structure, and more
SEO Image Optimizer
A large number of pictures will slow down the opening speed of shopify stores you'll definitely want to use an image optimizer like this one to keep your site speed up.
Smart SEO
shopify Smart SEO app generate relevant meta tags for product, collection, blog, and article pages in your Shopify store, as well as alt tags for product images, using JSON-LD data already structured in the way search engines need.
Step 8. shopify technical seo
Even after completing the above 7-step shopify optimization operation, there will still be a lot of non-compliance with SEO specifications in most seo tools. Why? In the final analysis, it is because shopify's code structure itself does not meet SEO standards. Although shopify is the largest SAAS e-commerce website building system, its SEO function is weaker than wordpress
shopify Duplicate content
The shopify code structure has a large number of duplicate content problems. Take my website as an example.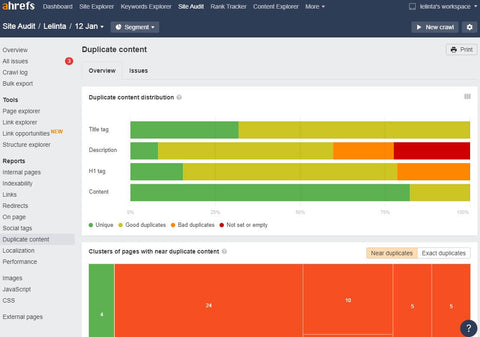 shopify Meta description tag missing or empty
Another example of problems with shopify code structure is that some pages cannot be customized to set meta tags, while wordpress can set meta tags for almost all pages.For example, all collections/all, /cart, Products-Tagged "tags" cannot set Meta description: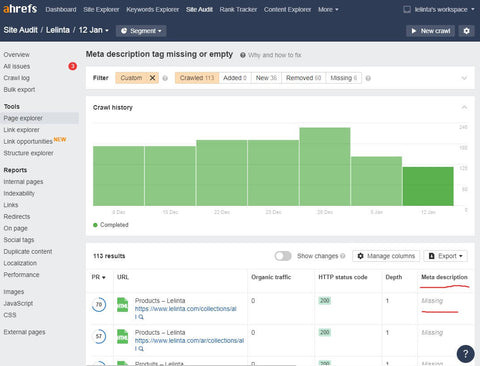 To solve the problem of shopify's lack of SEO in the code framework, you can download the shopify technical seo document which contains the complete code snippets and repair methods.