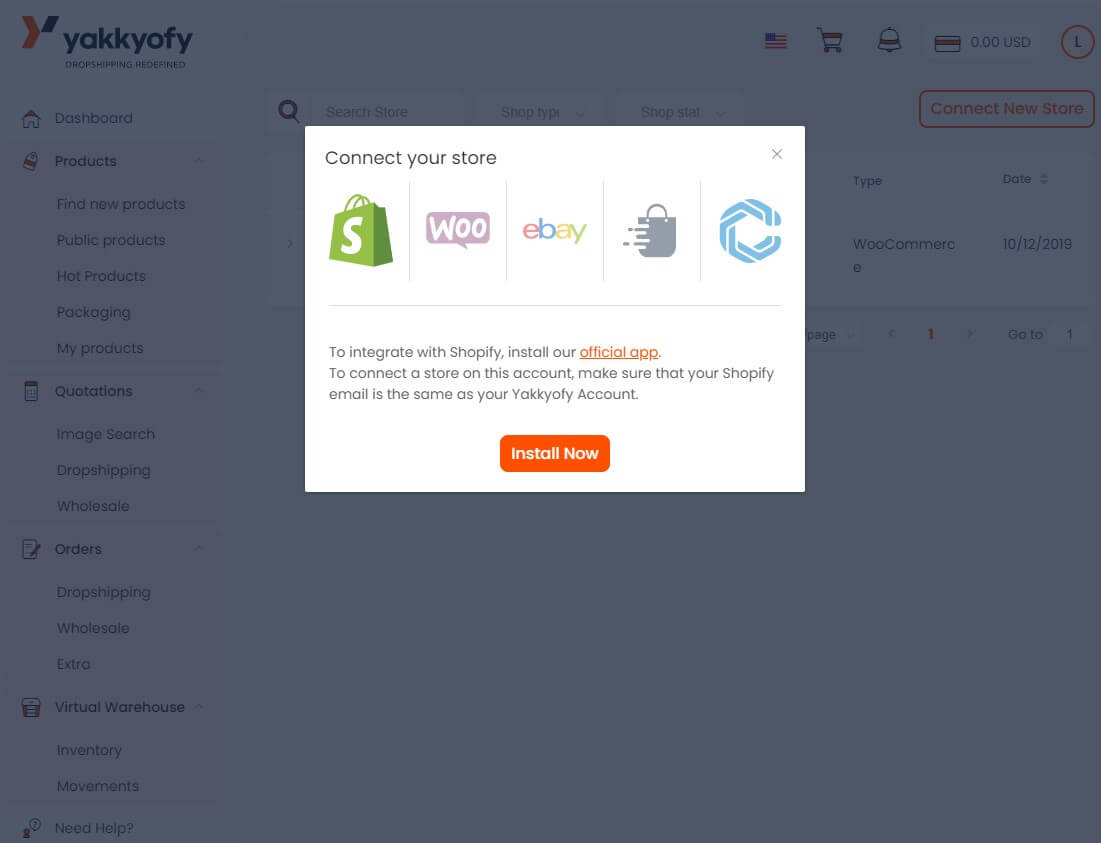 Yakkyofy completely free dropship tool
yakkyofy dropshipping
Yakkyofy is a free End-to-end Solutions for dropshippers with following features:
Real time B2B product quotation:You can purchase all the products you need directly from Chinese factories and obtain real-time product quotations at B2B prices. It is equivalent to having its own purchasing agent;
Fast Dropshipping Shipping :Yakkyofy uses the fastest transportation available in the destination country to transport your package. We provide competitive 3-8 days delivery to the United States and most parts of the European Union, and 9-15 days delivery to more than 30 countries / regions around the world;
Automated product import:Just a few clicks to import the product into your store, with pictures and shipping costs;
B2B price:Purchase products from manufacturers only at B2B prices. It means you have higher profit margins;
Private Label Products :Increase the perceived value of your products by selling products with your own logo;
Custom packaging:Make your product sexier and build your brand by adding a logo to the package. You can even add a coupon card to your package to improve customer loyalty and repeat purchase rate;
Automatic order fulfillment:Stop wasting your time by paying orders manually! Activate the wallet to automatically process your order immediately after your customer checks out;
Bundle sale:When customers buy multiple products, do not pay for separate delivery. Let yakkyofy bundle delivery and only pay once;
Batch discount:Purchase product inventory to obtain an inventory discount on the price of a single item;
Wholesale order:Just send us a wholesale quotation request and you can get a quotation including all hidden costs (freight, customs, taxes, duties) in a few days;
Amazon FBA order:Purchase the product inventory and ship it directly to the Amazon FBA location of your choice;
Real time inventory level update:Yakkyofy will automatically update your inventory level in real time and will never be out of stock. You can view the virtual warehouse from the yakkyofy dashboard;
Electronic wallet automatic payment:Activate the wallet to automate the entire order fulfillment process and reduce processing time;
automatic tracking:The tracking number will be uploaded to the dashboard and automatically sent to the customer after the order is completed. Track your packages through the shipping status tab and see when they arrive;
Pricing automation:Set mathematical rules to automatically calculate prices displayed in stores and set profits;
Product quality inspection:QA ensures that all physical characteristics, models, colors and dimensions meet your expectations.
yakkyofy shipping times
Yakkyofy, by default, ships your parcels with the fastest shipping method available for the destination country. We offer super-competitive 3-8 day delivery to the US and most of the EU as well as 9-15 day delivery to more than 30 countries around the World.
yakkyofy pricing
Yakkyofy is a permanently free Dropshipping platform. There is no pay plan, allowing you to start your business at the lowest cost.
yakkyofy chrome extension
yakkyofy extension Installation link address:https://chrome.google.com/webstore/detail/yakkyofy/pfihdghehgbighdgmpnmffaoibdhnbhc
Use the yakkyofy Chrome extension to ask for quotations for new products you can't find in yakkyofy catalog. Our image recognition technology will recognize the pictures you send us and quote you in real time.
Yakkyofy Integrations
Yakkyofy supports Shopify, woocommerce, commercehq, storeden and eBay e-commerce site building systems and platforms. As long as you are one of these systems, you will basically not need to operate the store manually, which will save your time and avoid mistakes.
yakkyofy shopify
If you are a Shopify store, you can install https://apps.shopify.com/yakkyofy-dropshipping-redefined Connect to yakkyofy.
yakkyofy ebay
You can set up and sell your eBay store in just three steps: connect your eBay account to yakkyofy, buy a small number of products and start selling according to eBay guidelines!
yakkyofy woocommerce
Connect your woocommerce store using our WordPress Plugin https://wordpress.org/plugins/yakkyofy/ Requires Wordpress Version 5.0+ & WooCommerce 4.0.0+
CommerceHQ Dropshipping
If you are CommerceHQ store, enter your CommerceHQ store name, API key and password to link to yakkyofy to start CommerceHQ Dropshipping.
storeden Dropshipping
To connect the storenden store to yakkyofy, login to your storeden account, access the Applications tab in the storeden menu and search for the yakkyofy application https://en.storeden.com/storeden-app/604631a45fb8e098c38cb1f3 ,Then click Install.
yakkyofy alternative
There are many Dropshipping software similar to yakkyofy, such as oberlo which only supports shopify (there are also have free plans), alidropship which only supports woocommerce (the most powerful woocommerce Dropshipping plugin), or CJ Dropshipping platform, which supports most e-commerce systems and third-party platforms.
| | | | |
| --- | --- | --- | --- |
|  Features | Yakkyofy | Oberlo  | Alidropship  |
| NO MONTHLY FEE | Yes | No | No |
| CONNECT WITH | shopify,Woocommerce,CommerceHQ ,storeden ,ebay | shopify | Woocommerce |
| FREE UNLIMITED ORDER FULFILLMENT | Yes | No | No |
| BRANDED PRODUCTS AND PACKAGING | Yes | No | No |
| FREE MULTIPLE STORES MANAGEMENT | Yes | No | No |
| NO STORAGE FEE | Yes | No | No |
| Signup Link | Signup | Signup | Signup |
yakkyofy vs oberlo
Both yakkyofy and oberlo have free plans, but I will choose yakkyofy because yakkyofy supports more and more powerful platforms, while oberlo only supports Shopify stores and the free plan function is limited. Even if you pay, you will not make more use of building your own brand and obtain higher profits than yakkyofy.
yakkyofy vs cj dropshipping
Both yakkyofy and CJ Dropshipping have free plans, but I will choose CJ Dropshipping because CJ Dropshipping supports almost all site building systems and third-party platforms, and has more powerful functions. There are more warehouses in the world, while yakkyofy only supports one third-party platform, eBay.
yakkyofy reviews
In general, yakkyofy is a very excellent and powerful Dropshipping software platform, especially if you do Dropshipping in commercehq or storeden stores. Unlike Shopify or woocomer stores, there are many Dropshipping software platforms to support. Yakkyofy's cost advantage, delivery speed and promotion of your brand are powerful choices with low cost.