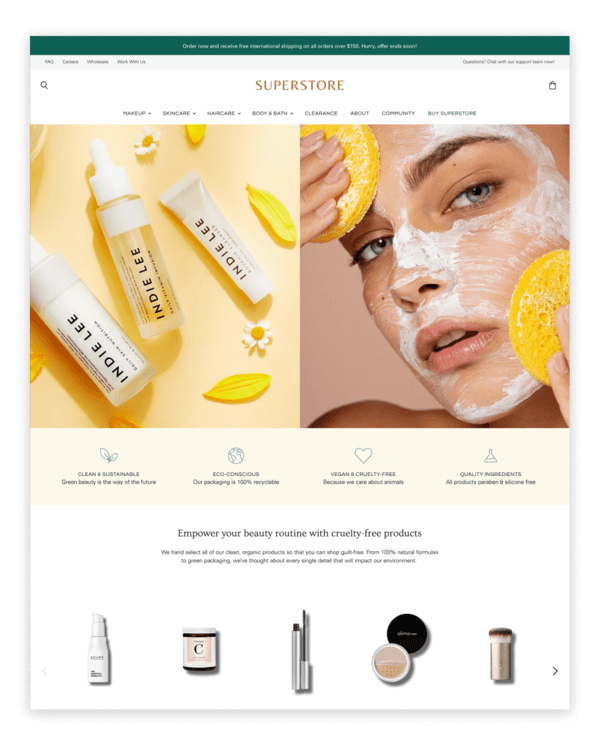 wholesale superstore shopify theme
superstore theme
Built specifically for wholesalers and large catalog Shopify stores, superstore themes integrates seamlessly with pixel Union's wholesale app. Pixel union superstore theme has predictive real-time search to improve discoverability, and a compelling promotional part similar to large online retailers.
superstore shopify theme
Superstore Shopify theme is the first and only Shopify theme seamlessly integrated with wholesale club. It provides wholesale prices on Shopify and has an exclusive page wholesale pricing function. Customize your store with superstore's myriad design, layout, typography, styling, highlights, and promotional options. It has the following characteristics:
Optimized for large catalogs: superstore is designed to support wholesale online stores with a large number of catalogs and advanced sales needs;
Super large navigation: customers can check out faster through customizable multi column drop-down menus and quick links;
Wholesale Club integration: just integrate Wholesale Club with superstore to provide exclusive wholesale pricing for logged in and marked customers in your Shopify store;
Fast collection filtering: Ajax technology enables customers to filter and sort the products on the collection page quickly;
Fully integrated custom scripts: add and edit topic code without leaving the topic editor;
Predictive real-time search: improve discoverability and accelerate transformation through fast and dynamic product and content search results;
Speed and performance: the superstore is fully loaded with many speed increasing functions, including turbolinks, delayed loading and reduced JS;
Compelling promotions: promote sales, discounts and featured products through promotional components similar to major online retailers;
Dynamic highlight banner: use fashionable and customizable icons to display contact information, transportation policy and other important store information.
20% off discount code "
5137

"

20% off all Out of the Sandbox themes. This code is available until April 22, 2022.
superstore theme version
Released May 1, 2019,superstore theme Current Version: v3.2.4 (updated July 5th, 2021)
shopify superstore theme demo
Shopify superstore theme has four wholesale store styles, such as beauty, fashion, tech and interior. The demo link address is as follows.
superstore theme examples
A large number of Shopify wholesale stores use our superstore theme, such as demalogica, Neiwai, lensbox, hola BB and other famous Shopify wholesale stores.
superstore theme free download
Join our lelinta members to download superstore theme for free.
pixel union superstore theme review
On our official website, you can see that real customers review the pixel union superstore theme. Especially for wholesale stores, superstores are few large-scale wholesale special themes. If your store is woo or less classified stores, you can choose alidropship theme Frida.
14-DAY GUARANTEE
Try Superstore themes out in your shop for 14 days - if you don't love it, we'll refund it!