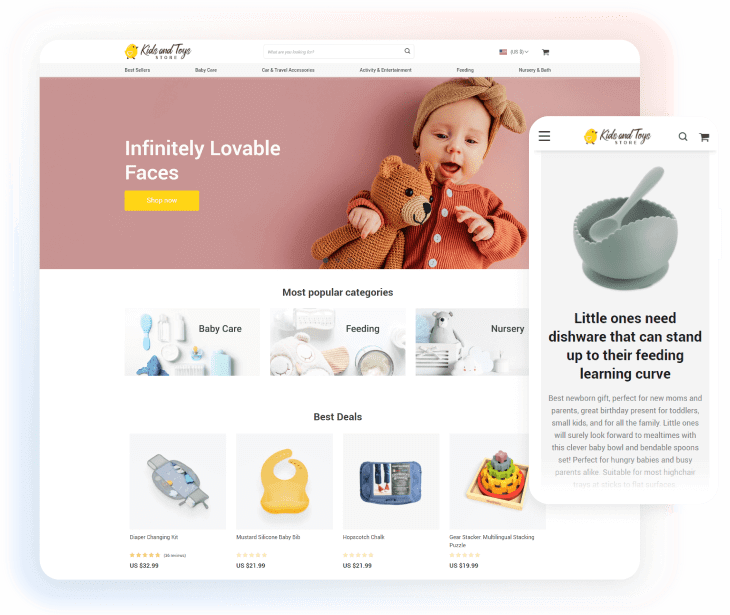 Turnkey US Dropshipping Supplier Store Sellvia
About Sellvia products
Sellvia offers its merchants only the proven bestsellers thoroughly tested and filtered by its marketing experts. Sellvia suppliers range from private label manufacturers to handmade indie brands. On Sellvia catalog we featured hundreds of US suppliers as well as international suppliers from all over the world. Online store owners can resell these items with unprecedented profit margins (due to low purchase prices). Every item goes with a quality product page optimized for high conversions and can be imported to a merchant's storefront in just one click.
Sellvia is us dropshipping supplier
Sellvia is a direct supplier of warehouse in California, USA. all products are verified.
1-3 business days shipping across the US from our warehouse with 24 hours order processing time;
Free access to trending products catalog with weekly updates;
Product prices lower than on other popular marketplaces (e.g. AliExpress);
FREE trial month! Then only $39/mo for unlimited product imports and orders;
Up to 10 online stores with one subscription.
easy to use, goes with all product visuals, and we take full responsibility for order processing – from packaging to shipping.
Only winning products:Every item we offer keeps up with the latest trends and has been proved to bring huge sales. Each product comes with a high-quality product page and ready-made marketing campaigns.
Reasons for choosing Dropshipping suppliers from the United States rather than China
Dropshipping is not dead, but Dropshipping suppliers from China, such as aliexpress, are dead. There are at least the following reasons for choosing us Dropshipping supplier sellvia:
American suppliers have a higher repurchase rate:Product quality and delivery time are the basis for customers to buy again. The cost of attracting existing customers is five times lower than that of obtaining new customers, especially now that the advertising cost is getting higher and higher;
Far less refunds:If your buyer waits too long for order delivery, they may ask for a refund. Longer delivery times may result in a 10% (or higher) refund rate. Direct delivery from sellvia, an American supplier, allows you to avoid the risk of losing most of your profits and satisfy customers;
payment gateways Will not be banned:All payment processors have procedures to help prevent fraud and protect buyers. They may suspend or restrict your account activity based on your order tracking information and other inspection results. If multiple customers apply for refund, dispute or refusal due to long delivery time, your funds may also be delayed. With sellvia, you won't encounter any of these problems;
Advertising accounts will not be banned:Most of them still bring orders through advertising. Social platforms conduct random surveys on online shopping customers to understand their views on the brand and its services. Using Chinese suppliers with slow delivery and poor quality products, your shoppers give you negative feedback, your page ranking may decline, and the use of your advertising and Facebook products may be limited or blocked.
aliexpress vs sellvia
According to the above description, take aliexpress as an example to compare sellvia
Prices:Sellvia is cheaper than aliexpress;
product pages:Sellvia is more in line with the tastes of Native Americans than aliexpress's messy Chinese style product pages;
Pachage:Compared with aliexpress, sellvia allows you to have your own brand and high-quality package
Sellvia have turnkey dropshipping store
sellvia Ready US turnkey dropshipping custom store,We will create your website from beginning to end and package it with proven bestsellers in the sellvia catalog. What else do you get when you order a custom store with sellvia products:
1-3 business days shipping
All products in the US California warehouse
Promo campaigns for every item
Best prices & huge profit margins
Top-notch product descriptions
WooCommerce itself and AliDropship stores support (Shopify soon);
Free high-converting product pages with visuals;
One-click import from the catalog and automated order placement;
Ready ads for FB, Instagram & Pinterest provided for every item;