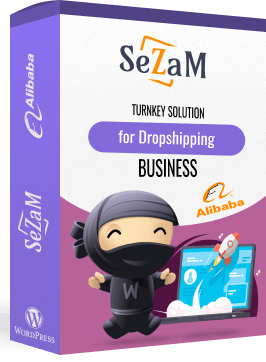 Alibaba Dropshipping Woo Plugin Sezam
Alibaba dropshipping service
Finally, Alibaba, which used to be mainly engaged in B2B wholesale business, also supports Dropshipping, which is exciting news for the majority of Dropshippers. It means that a large number of low-cost and high-quality direct factory sources become the choice, which means higher profits.
Why choose Alibaba as the dropshipping supplier?
There is no doubt that cooperation with Alibaba, a real manufacturer platform, in Dropshipping has the following advantages:
The real manufacturer:Purchase products directly from genuine factory manufacturers, avoiding any retailers and agents;
Fair price:Increase your profit by buying products at factory price (much lower than express);
International warehouse:Process your orders in local warehouses in more than 200 countries for fast delivery;
Product brand customization:Get customized products with your brand label and develop your own brand;
Quality Control:Purchase products from certified suppliers verified by top independent inspection companies to avoid junk products.
Alibaba dropshipping VS AliExpress dropshipping
What are the advantages and disadvantages of Alibaba and aliexpress:
At Alibaba, you deal directly with factories and manufacturers. On the other hand, most of the sellers working on AliExpress are intermediary traders between producers and final buyers.
The initial prices of Alibaba and AliExpress are quite low. Most importantly, both platforms have a wide range of products for you to choose from. Alibaba's price is lower, because many of AliExpress's products even come from Alibaba.
The delivery times of the two platforms are similar in terms of transportation conditions. However, the freight on global AliExpress is cheap or even free.
Some AliExpress and Alibaba businesses have warehouses all over the world, which can shorten the delivery time.
Alibaba has only recently started to cooperate with Dropshippers, which means that you may be able to find products that AliExpress doesn't have to sell to highlight your product power.
According to Alibaba, if you work with the platform, you can ensure that you purchase products from suppliers certified by top independent inspection companies. This is a big advantage for many sellers who are fed up with low quality AliExpress.
To sum up, AliExpress and Alibaba direct have their own advantages and disadvantages. On Alibaba, you will find that most sellers are real manufacturers. At the same time, Alibaba focuses on product customization, which is convenient for you to put your brand label on products and improve your loyalty. In addition, the top independent inspection company certifies the product quality. Compared with AliExpress , there are many trade intermediaries rather than factories, which means that Alibaba is the choice to obtain higher profits.
Difference between Alibaba dropshipping and AliExpress dropshipping
At present, most of the Dropshippers are doing dropshipping from AliExpress. We need to know the difference between Alibaba and AliExpress.
Alibaba dropshipping
Direct contact with real factory manufacturers
Low initial price
Product customization, no original business logo
Quality control, factory quality inspection
International warehouse, delivery around the world
AliExpress dropshipping
Most suppliers are trading companies
Wide range of products
Seller brand identification
Seller / product rating system
International warehouse
Alibaba Dropshipping Woo Plugin Sezam features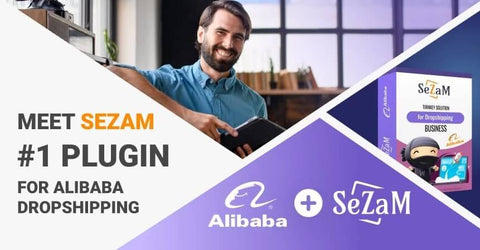 Sezam is Alibaba's first official Alibaba drop shipping woo plugin, which enables you to automatically carry out Alibaba drop shipping business:
Import products from Alibaba with one click:Just visit alibaba.com, find a necessary item, and import it directly into your website with one click. The desired product will immediately appear on your website, including all images, descriptions and variations.
Auto Order:You don't have to order each product manually after the customer orders. Just click the "order" button to confirm the order in Alibaba and track it after your order is processed.
Automatically update product information:The automatic update system keeps your product information fresh and corresponds to the latest data of Alibaba.
Built in batch price marking formula:The plug-in has a built-in batch price marking formula, so you don't need to consider the manual modification of the pricing strategy of the online store. All products on your website will be automatically marked in batches according to this formula.
How to use Sezam automate alibaba dropshipping
This website has introduced that you can use AliDropship Plugin or AliDropship Woo Plugin automate your aliexpress dropping business, so how to automate Alibaba dropping business? The steps are as follows:
Step 1: purchase domain name:
Start Alibaba dropmapping requires a website. Before starting to build a site, you need to choose to buy a domain name, such as a domain name in the cheapest nameilo;
Step 2: woocomerce hosting
The website needs to be hosted on the server to allow users to visit. The best cost-effective WordPress hosting server is BlueHost. You can buy a professional woocommerce hosting host on this platform.
Step 3: install WordPress
The sezam plug-in needs to install WordPress content management system to build a website.
Step 4:install woocomerce theme
To improve conversion, it is best to install topics specifically tailored to Dropshipping business, such as alidropship theme El Greco Woo , or buy out of the box stores.
Step 5: install woocommerce and Sezam Plugins
The installation of woocommerce and sezam plug is required for start Alibaba dropshipping,It is best to download the woocomerce plugin on its official website.
Step 6:importing products from Alibaba
use Sezam importing products from Alibaba to your online WooCommerce store.After this stage, your direct involvement is no longer required.
Step 7: automatically synchronize customer orders
Sezam will transfer the information about the order to your Alibaba supplier after your shop places an order. Sezam will automatically process your customer orders in bulk.
Does Sezam support alibaba dropshipping shopify
Sezam has not yet developed alibaba dropshipping shopify doesn't support Shopify stores for the moment, but it's under development and will be released here in progress. At present, the sezam plugin only supports WordPress / wordcommerce stores. Please look forward to it.
Alibaba dropshipping review
To sum up, Alibaba Dropshipping is a new product source with lower price and higher profit. It can customize the brand and guarantee the quality. However, using sezam can simplify the automation of Alibaba Dropshipping business without manual operation.