Podcast app comparison! How to make marketing strategy for each platform?
In view of the intense operation of podcast, I specially made a function comparison table of several popular podcast platforms recently, and introduced them in terms of operation and marketing. Interested friends can quickly learn about different podcast apps in a short time, and choose their own podcast platform to listen to or put on the shelves.
Podcast platform function comparison table
In terms of the overall project, I take the user's UI interface friendliness, cost, function convenience, special functions and other items as comparison items. If there is a creator platform and it can be published to other platforms simultaneously, it is more convenient. So the podcast apps that have given five stars are Apple Podcasts, Anchor, Firstory, Google Podcasts and Spotify. 
podcast platform comparison
podcast name
special Features
Feed Rss
Creator platform
Apple Podcasts
No
App PC Both Yes
No
Anchor
Browser recording podcasts synchronized to multiple platforms
App PC Both No
App PC Both Yes
Baabao
Community, producer
App PC Both Yes
App no,PC yes
Castbox
Live broadcast, sleep mode, community
Subscription App , PC Yes
App PC Both Yes
Firstory
automatically synchronized published to KKBOX, Apple podcasts, spotify, google podcasts, pocet casts
App PC Both No
App PC Both Yes
Google Podcasts
No
App PC Both Yes
No
SoundCloud
Self-organized tracks, self-built channels
App no,PC yes
App no,PC yes
SoundOn
Sound community like Clubhouse
App no,PC Form yes
No
Spotify
Multiple custom settings
App no,PC yes
No
Stitcher
No
App PC Both No
No
Features of podcast platforms
 In order to make profits, podcast platforms need to differentiate audience market, and different platforms also provide more distinctive functions to attract audience.
Spotify
Spotify's self-made functions, such as whether the sound playback will be interrupted after listening to an episode, whether to share the music the creator is listening to with other fans, whether the music will be transmitted to other devices for playback, etc. In addition, if your favorite artists hold concerts near your location (LBS), the system will inform you of the latest information according to the app push function or e-mail mode you set. Presumably, it will trigger the notification function according to the artist list in your music database, and provide online ticketing website. It is suggested that fans can go to other ticketing websites to make more comparisons. Platform setting function is really rich and diverse. 
SoundCloud
 Soundcloud's re post function increases the chance for creators' works to be exposed on the website, expands the scope of marketing influence, and increases potential rewards. It costs $2.50 per month to use this function. There are many functions set by users, which are comparable with spotify. One of the most important features is re release.
SoundOn
 Soundon provides a social function similar to Clubhouse of a Club chat room.
Baabao
Baabao has community chat. You can talk about podcast content on specific chat pages, or create your own channel for producers. 
Castbox
Castbox introduces sleep mode, which can provide relaxed sleep music, and manually set it to automatically stop playing sound in a few minutes. You can also set a sleep time when you listen to a single episode online to enhance the impression that this app attaches importance to giving your ears a rest. In addition, live broadcast function is provided for creators to use. 
How does podcast attract traffic?
 In terms of promoting podcast market, it is not difficult for individuals to build podcast, but it is difficult to promote it, especially when there are a lot of podcasts now. There are several ways to promote podcast to attract audiences:
1. Expand customers by mutual financing
In order to make podcast operations sustainable, many companies expand global operating energy through financing. Include Anchor, Castbox, Firstory, Soundcloud, spotify, Stitcher to expand. 
2. Merger and acquisition operation by individuals and investment advisory funds
Soundon, acquired by Pan Jiexian, the co-founder of 17live, and turn capital, a family business, and kolective ventures, an investment consultant in Singapore, may be looking forward to the acquisition of Pan Jiexian, the co-founder of 17live, by Gu Likai, the former general manager of Uber's North Asia region, Inject soundon to make the operation creativity more lively, increase the entertainment viscosity and drive more advertising performance. 
3. Build confluence platform
Apple podcasts and Soundcloud build their own platforms to accommodate a large number of podcast programs, diversify the types, introduce potential members, and increase the flow of point in viewing. Apple podcasts, the founder of podcast, must play Apple podcasts in the application of desktop using the software of iTunes. The mobile phone can download the app directly, which is more intuitive and convenient to listen to. Most of them listen to "music" by using the iTunes software. 
Soundcloud, the sound version of youtube, was originally targeted at grassroots musicians. After the revision of its website in 2013, in order to attract more audiences and accommodate different types of music, it cooperated with large record companies (such as Sony / ATV, BMG, etc.) and independent musicians, deliberately moving towards popularization and weakening the music appeal of artists. With each single, the sound player can be embedded into any website, and combined with Twitter and Facebook, it highlights the type that is more suitable for most audiences. 
4. Actively search other RSS platforms
Google podcasts uses search engine mechanism, and at least three or five hours, Google actively crawls the web site to search for RSS dynamic messages, just as when searching new pages or updating web pages( Publishers can also explicitly inform Google of new dynamic messages) after finding new dynamic messages, Google will retrieve the dynamic message and establish a program in Google podcasts, and users can listen to the program through different listening platforms, such as Google podcast application, Google home or any podcast player compatible with RSS.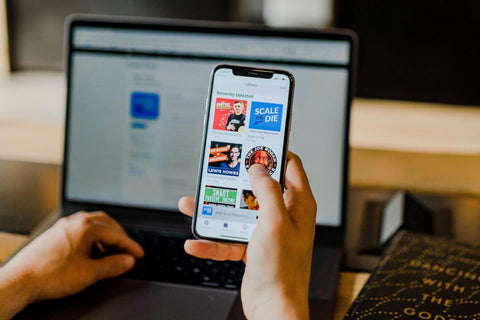 Comparison of marketing strategies of podcast platform
Overall, the current marketing profit orientation is divided into platform profit, creators and platform profit. 
The platform profit is mainly based on the subscription system, that is to say, the payers with large amount of charge become the advanced members and bring profits; Payers can enjoy such services as free from the interference of advertisements placed on Web pages, unlimited download times of audio files, offline listening, better sound quality, non random and continuous playing podcast content, etc. Such as castbox and stitcher. 
Creators and platforms make profits together. For example, Soundcloud started to transfer the "user centered" membership system from the "new tax sharing mechanism" in April this year, and split the profit amount with creators according to the following three new standards. 
How many ads did the fan listen to in Soundcloud.
Whether the fan has paid to use Soundcloud go +.
What percentage of time does a single fan spend listening to the creator's program (Music) in a month.
It is different from the previous big reservoir where "membership fee and advertising fee" are collected, and then it is distributed to musicians according to the point listening proportion of the whole platform, so as to prevent the audience from being forced by the system to listen to pop songs they don't want because of the streaming mechanism, which is beneficial to pop stars. And provide backstage, so that content providers can see the current situation of listening to each section (song). 
In 2014, it was not easy to just mention the split. It also broke out that some independent music producers mixed the music of several record companies. How to distribute the copyright proportionally aroused discussion. Later, they deleted the action of this type of music, and continued to spend a lot of time discussing this issue with record companies. 
 Compared with Soundcloud, spotify adopts a "user centric" system, which uses "listening time of a single audience" instead of "listening proportion of the whole audience" to get the fee.
Firstory is the "audience sponsorship" page under "profit" opened in the background after the creator actively outputs the content and accumulates the fan base. If the audience actively sponsors the creator (the system stipulates that the sponsorship amount is not less than 50 yuan), the official platform will draw 20% commission as the service fee for the gold flow and the service fee of the platform, and the other proportion belongs to the creator. This "profit" function is similar to the current "sponsorship" function of Facebook. 
Conclusion: podcast market strengthens subscription system and community service
Taking podcast as the starting point, I think if the platform wants to increase the profit-making space, there are always some project divisions from free to subscription, so as to maintain the operation. 
However, in terms of subscription system, more individual services can be provided to paid members, such as singer signature, signing or concert priority card, podcast exclusive VIP programs, listening to QA time, and matchmaking with members who are most similar to their own interests. Starting from the psychological needs of the audience, the function is not only for vehicle development, but also for value-added services, which should be more attractive. 
In terms of community function, according to the subscribed programs, artist lists and listening songs types, the audience is not only allowed to express their thoughts online in the community page of the pool, but rather, they make podcast listening (online) friends closer to their own attributes from the single program (Music) page. By understanding each other and giving programs (or songs), the audience can stimulate the number of listening points, Enhance the connection between each other on the platform, and then develop the products of recording companies or podcaster voice properties for sale. 
Other newly created goods for the community, such as physical sounding dolls, line-like soundmaps, daily clicks to one-language programs (love, inspiration, jokes, anecdotes, etc.), or special audio books or sound tools for Podcaster, virtual currency specifically for Podcast App trading, may also be a breakthrough mode to encourage continued self-purchase or donation.