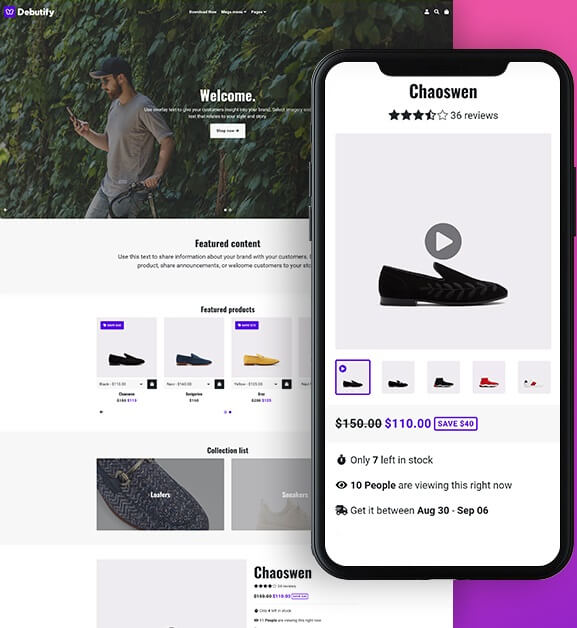 Free Shopify Theme Debutify
what is debutify
debutify is one of the few free shopify themes. Compared with the 10 free themes in shopify's official theme store, the functions are simple and cannot achieve slightly complicated functions. Moreover, the opening speed of the official 10 themes is very slow because too many people use it. Debutify not only Free and faster with more features.
debutify shopify theme
debutify shopify theme is a free shopify theme specially launched for dropshippers. It is known for its permanent free, extremely high Google open speed score, and integration of native functions without the need to purchase third-party shopify apps.
Highest-Converting FREE Shopify Theme
Debutify's sales add-ons will turn your product pages into high-converting funnels.Get the results of a Clickfunnels page AND the convenience of your Shopify store management.
28 conversion hack add-ons
Recommended by most dropshipping big guys
Especially suitable:Dropshipping,Print-On-Demand,Brand Stores
31+ tested e-commerce sales boosters:
💰Save Up To $2,000 a Year on Expensive Apps, Without Losing Premium Features
Add-to-cart animation
Cart countdown
Cart discount
Cart goal
Chat box
Collection add-to-cart
Color swatches
Cookie box
Delivery time
Discount Saved
F.A.Q page
Inventory quantity
Linked options
Live view
Mega menu
Newsletter pop-up
Pricing table
Product tabs
Product video
Quantity break
Quick view
Sales countdown
Sales pop
Shop protect
Skip cart
Smart search
Sticky add-to-cart
Trust badge
Upsell bundles
Upsell pop-up
Wish list
debutify price
Debutify can be used for free forever, but some of the functions that need to be integrated have to be paid. Even so, it is much cheaper than buying third-party shopify apps with similar functions, and it will not cause the shopify store to open due to the installation of a large number of third-party shopify apps from different companies. The speed slows down. debutify pricing: The annual billing Starter plan price is US$9.5/mo, the annual billing Hustler plan price is US$23.5/mo, and the annual billing Starter plan price is US$48.5/mo.
Exclusive discount code "Lelinta25" for lelinta.com
Coupon Name: Lelinta25 Percentage Discount: 25% Duration: 4 months Redemption: Unlimited Expiry Date: 31/12/2022
fastest-loading shopify theme
My website also use Debutify themes,Take the speed of my website lelinta GTmetrix as an example, and it has achieved a double A score.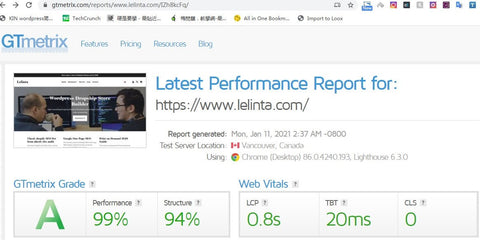 E-Commerce "Insiders" shopify theme
Debutify is a leading free Shopify theme, used by the biggest ecom entrepreneurs.Most 7-figure dropshippers use it for their businesses.
debutify theme examples
There are many stores that use debutify theme, including many of my shopify shops that use debutify theme. For example, this website www.lelinta.com uses the free version of debutify theme.
debutify review
It is precisely because a large number of my stores use the debutify theme, I think I have enough qualifications to review it. All in all, debutify is a very good free high-speed theme, with the advantages of price and high conversion rate, it is worthy of being a theme specially developed for dropshippers.
debutify theme shopify Customization
I am very proficient in debutify, if you need to customize the setting or custom development of debutify, please contact me
Debutify 4.0
The latest version of Debutify 4.0 will be launched on September 27th, which is developed specifically for shopify Online Store 2.0. The lelinta website will be updated to download the latest Debutify version as soon as possible.
debutify alternatives
booster theme vs debutify
debutify vs booster which theme is better?Both debutify and booster are shopify themes that focus on conversion rate and opening speed. In terms of price, Debutify has the advantage of providing a free version. If you don't need Debutify add ons, it is recommended to choose Debutify, while booster does not have a free version. Its advantage The layout style is more diverse and powerful. If you want a more flexible and stronger conversion rate, it is recommended to choose booster.