Dsers AliExpress official Dropshipping Tool
what is dsers
Dsers is a Dropshipping tool officially developed by aliexpress for e-commerce. More than 150000 Dropshippers joining dsers have successfully launched aliexpress dropmapping business.
dsers dropshipping features
As the official development, dropshipping system of dsers is perfectly integrated with aliexpress with the following powerful function advantages: 
Supplier Optimizer: Select the most suitable supplier for your sales products with one click;
Bundle Products :Easily map multiple vendors to a variant of your product to create a unique quote;
Auto Sync Tracking Numbers :Tracking numbers are automatically synchronized to your store and paypal;
Auto update order Status :Automatically update order status from aliexpress to dsers and your store;
Bulk Order :100 orders to global aliexpress in seconds;
Variants Mapping :Map your store products to any aliexpress vendor without changing anything in your store;
Stock Management :Automatically update product inventory from aliexpress to dsers and your store;
Automatic Pricing :Default pricing rules can be added automatically when you publish a product;
Shipping Settings :Select your preferred delivery method according to the order destination;
Buy One Get One Offers :Create a unique aliexpress product offer to increase your profit;
Multiple Stores Management :Link and manage multiple stores in one dsers account;
Affiliate:Integrate with admitad to get commission when you place an order with aliexpress;
Hide Products :Hide products you want to pause or do not want to process;
Products Division :Divide a product into several other unique products;
Import List :Manage and edit all imported aliexpress products in one place.
dsers pricing
Dsers pricing depends on whether your store is Shopify or woocommerce, dsers has forever free. The free version can bind three stores and import up to 3000 aliexpress products. For most of the dropshipping businesses, the free version is enough. Of course, if you want more powerful features, the payment is much cheaper than other dropshipping platforms, If it is a woocommerce store, it can be used permanently and free of charge.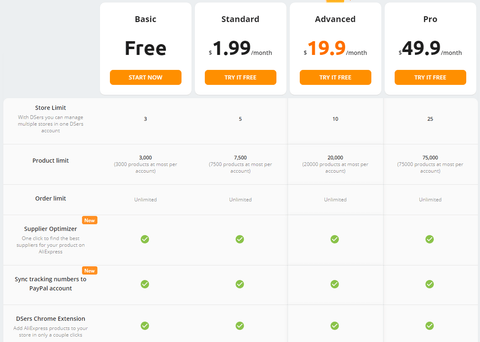 dsers pro
There is no Pro version of dsers in woocomerce stores, only Shopify stores have dsers pro. The price of dsers pro is $49.9/month, as shown in the figure above. It has the most powerful and complete functions, such as binding 25 stores, importing 75000 products, BOGO / bundle mapping and affiliate functions without price level. Try dsers pro Free
dsers app
Dsers is mainly integrated with Shopify stores and woocomerce stores. It can place hundreds of aliexpress direct sales orders in seconds and easily manage your online stores in one place. 
dsers chrome extension
The most convenient way to import products is to install dsers Chrome extension, search "DSers - AliExpress.com Product Importer" in chrome extensions store or connect to https://chrome.google.com/webstore/detail/dsers-aliexpresscom-produ/mmanaflgaempokjfbeeabkadnkoidjam?hl=en-US You can download and install dsers extension to Google browser.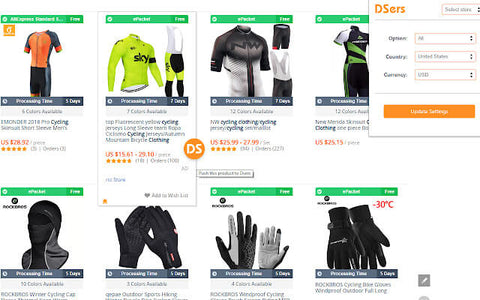 dsers shopify
For a shopify store, the best way to integrate dsers is to install the dsers shopify app, search the shopify app store for "dsers − aliexpress Dropshipping" or click the link https://apps.shopify.com/dsers Install dsers shopify.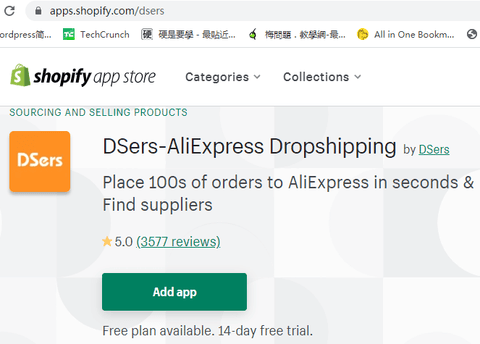 dsers woocommerce plugin
I've always thought that dsers is the best for the woolsomerce stores that do dropshipping. Compared with other woolsomerce dropshipping plugins, they can basically open the dropshipping business for free. They just need to install the dsers woocommerce plugin. The installation link is https://www.dsers.com/wordpress-plugin/ Or in https://images.dsers.com/ext/woo/1.4.6.zip download. 
dsers review
DSers Pros & Cons:Let's take a look at the advantages and disadvantages of dsers to help you make a wise purchase decision. 
PROS:
Cost effectiveness - there are four different programs to choose from, from free to professional. All plans come with many useful features, and the price will not exceed your budget;
Simplicity – dsers are intuitive and easy to use. In addition, each feature comes with a guide;
Save time - users can quickly control a variety of products and stores at the same time. These tasks can be accomplished with just a few mouse clicks;
Unlimited orders - you can process any number of orders as needed;
Track delivery - you'll see the status of each delivery. Everything from processing and packaging to delivery to customers can be monitored;
Multiple modes of transportation.
CONS:
There is no batch edit product option;
Only support shopify and woocommerce integration, if can support more e-commerce platform,it will be good.
how to use dsers
how to use dsers with shopify or woocommerce store? First, install the corresponding dsers app according to whether you are a Shopify store or a woolommerce store, link your store and associate your aliexpress account, then follow the steps as follows:
First, set product import rules in dsers app in the background of the store, such as price, inventory, transportation options, etc;
Open aliexpress.com to find the product you want to import;
Start the installed dsers Chrome extension, and the dsers Import button will appear in aliexpress to select the product you want to import;
If you need to customize product settings, edit and modify the products that have been imported from aliexpress in the store .
dsers vs oberlo
Both dsers and oberlo can only import aliexpress products. The difference is that oberlo can only support Shopify stores, while dsers can integrate Shopify and woocommerce stores at the same time, and dsers price is cheaper. For details, please visit dsers vs oberlo. 
dropified vs dsers
Dropified vs dsers in general, dropified can import not only aliexpress products but also products from local suppliers in Europe and America. Dsers can only import aliexpress products, but can choose products with local warehouses in Europe and America. Dropified not only has no free package in terms of price, but also the price of paid version is much more expensive than dsers. Please visit dropified vs dsers for details.
Start with DSers, take your Dropshipping business